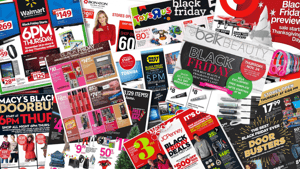 While some of us are thinking about turkey, apple pie and football as Thanksgiving approaches, there is an entirely different group of holiday revelers who are instead plotting their Black Friday strategies for scooping up some of the years greatest sales. Traditionally a US holiday shopping extravaganza, many countries have adopted this holiday shopping push to drive business. Thus, retailers have upped the ante with Black Friday creeping into Thursday night, but even that hasn't curbed the explosive growth of the tech driven, millennial shoppers' idea of heaven – Cyber Monday. While some of the over 35 crowd will also be dreaming of the online deals, 20% more of the shoppers will be millennials.' This group is part of the legions of shoppers who made last year's Cyber Monday historic. According to Adobe data, online shopping was up 10.2% year over year – with $3.39 billion spent online.
The mecca of online shopping has brought with it its own problem – greatly compounded with the volumes Cyber Monday can bring. Great deals abound, but sometimes what seems too good to be true, really is too good to be true. The anonymity of the merchants and the associated risk, the ease of looking authentic, and the inability to physically touch, feel and evaluate products before making a purchase has dramatically increased the risk of receiving counterfeit products. Research found that just over one-quarter of consumers (27 percent) had been duped. Of those fake goods, makeup was cited as the most commonly purchased fake item (32 percent), followed by skincare (25 percent) and supplements (22 percent).
So, holiday shopper looking to fill a stocking with MAC eyeshadow, Colourpop lipsticks, or Clinique Moisturizer need to be especially cautious. Shoppers can try to protect themselves by checking for authorized dealers listed on the brand's official website. And online merchants are looking to fight the issues as well. Amazon took the first step with their first lawsuit against 2 fraudulent sellers in November 2016. Shortly after, Alibaba followed suit by becoming the first e-commerce site in China to sue counterfeiters.
In addition, Amazon is now encouraging all brands, even those not selling on their site, to register their brand, providing them the ability to verify their legitimacy and has introduced a $1,500 fee for traders wishing to sell major brands. Ebay is also looking to protect its customers with their verified rights owners program which allow IP owners to report listings that infringe on their rights.
But even with these ever-growing layers of protection, online shoppers this season are at risk. The need for an entirely different approach is clear – more than just an evolution of current anti-counterfeiting solutions. Online shopping is only going to continue growing, counterfeiters are getting smarter and bolder, and brands and the customers that trust in the promise of that brand are paying the price. Systech's UniSecure offers that solutions. With UniSecure—cosmetic, nutraceutical and skincare manufacturers can ensure their products authenticity and uniqueness using their current packaging and the flexibility of the cloud and mobile phone.