The fight against counterfeiting and diversion is at a crossroad. Never has there been such a loss of revenue due to these global supply chain threats and it's only getting worse. Companies are spending over $105 billion annually to combat these issues, yet this "gray market" of products is projected to surpass $2.8 trillion globally by 2022… That's a 100% increase over ten years!
And sadly, no industry or marketplace is safe from this menace. Steve Tallant, Systech's senior director of product marketing, unpacked this for viewers on network television this past holiday season. The highlight video below captures many of these key points.

Phenomenal ROI with low threat of
legal prosecution
There are two primary drivers to the unbridled growth of this global supply chain threat. First, the same brand protection methods available to brands today, are also available to counterfeiters. Physical packaging features such as holograms, seals, specialty inks, et cetera are used widely. Unfortunately, by using these additive techniques and simply applying a seal or hologram, criminals can now easily manufacture fake products that look just like the authentic product. And to make matters worse, the cost of counterfeiting is rapidly decreasing with the advent of sophisticated and inexpensive digital printing. Getting the "right" combination of anti-counterfeiting solutions implemented on products is a tricky science, and possibly an emerging art.
Secondly, the lure of quick profits is hard for counterfeiters and supply chain criminals to resist. It is more profitable to sell gray market pharmaceuticals than it is to sell narcotics and illegal drugs, with less risk of prosecution and punishment. Drug cartels and crime organizations are key players in the field of counterfeiting. In fact, a $1,000 investment in certain counterfeit prescription drugs can result in a $30,000 return, which is 10x the profit rate of trafficking heroin!
The cost of counterfeiting is going down and its profits are skyrocketing, while the cost of lost goods and damage to brand reputation are escalating. Thus, the situation is now at a strategic inflection point where companies can no longer ignore the loss of revenue and the impact it has on their bottom line. However, the C-Suite should know that amid these supply chain threats lies financial opportunity. Implementing the right tools to combat counterfeiting and diversion just might be one of the best capital investments you make this year.


What does IRR have to do with counterfeiting and diversion?
IRR is not necessarily a simple formula, but rather a simple concept. Internal rate of return (IRR) is a metric used in capital budgeting to measure and compare the profitability of investments.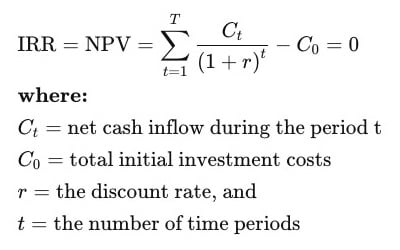 This metric helps executives make decisions on capital expense budgeting and determine where strategic investments should be made within the organization. These investment decisions are intended to help grow the business, improve profitability, and ultimately increase revenue.
As a C-level executive, have you ever considered the negative impacts counterfeiting and diversion are having on your profitability, revenue, and brand… which are ALL inextricably interconnected? Better yet, have you ever considered why protecting your supply chain can be a strategic investment for your company?
Whether or not you use an IRR calculation to determine where your next CapEx dollar is invested, you most certainly need to be cognizant of how quickly you recoup the costs of your CapEx investments. And furthermore, determine if the investment returns are favorable, sustainable or just one-offs.
Did you know?
There are numerous tangible savings derived from deploying anti-counterfeiting and diversion detection solutions. Plus, there are many significant soft benefits, with the primary one being brand protection. By mitigating these issues, you can avoid a situation where you find your products showing up in the wrong markets and/or on shelves as counterfeit goods—which will ultimately tarnish your brand reputation.
Ask yourself these questions… What is your loss for every counterfeited product? What is your loss for every product that has been diverted? Is the Internet exacerbating these long-standing supply chain issues?
Between the threat of counterfeit goods and rampant diversion, brands are being put to the test to develop strategies to keep customers safe, protect revenue and ensure continued brand loyalty. The good news is that implementing a comprehensive solution is more cost effective than you might realize.
What if we told you that your investment in anti-counterfeiting solutions could be a fraction of a penny per protected product and could save your company hundreds of millions of dollars per year?
Determining the basic business impact of counterfeited and diverted products
There are three basic questions that can be asked to determine the applicability of an anti-counterfeiting/ anti-diversion solution. They are:
How much can we expect to reduce the amount of current counterfeited product?


How much can we expect to reduce the amount of diverted product?



How much can the reduction of counterfeited and diverted products increase market share? (i.e., improvement on how brand is perceived/ valued in the marketplace)
You can use our ROI calculator to quickly determine the supply chain losses you could prevent.
What is a C-Suite executive to do?
Think about this. What are you doing now to prevent the counterfeiting and diversion issues inherent in your supply chain? Is it a manual process? Is the method additive? Are you needlessly using multiple layers of technology? Are you spending time and effort without really solving the issues? Are you just putting band-aids on a mortal wound? Everyone is doing something to combat these threats, but is it enough?
The current brand protection landscape is filled with a multiplicity of providers all portraying the superiority of their solution. At Systech, we believe it is critical to utilize non-additive digital technology that provides end-to-end protection for your products across the supply chain. In short, you need a solution that works with your existing packaging. The Systech Brand Protection Suite™ helps companies ensure their products are authentic, safe and connected from manufacturing to the consumer's hands.
OZNaturals selects Systech to secure its global supply chain
Here's why the CFO of a major cosmetics manufacturer turned to Systech to protect the company's brand reputation and ultimately its revenue. "OZNaturals is founded on the belief that consumers deserve highly effective and safer skin care products," said Mike Small, OZNaturals' CFO. "We selected the Systech Brand Protection Suite because it provides an effective way for the customer to ensure authenticity based on our current packaging. The solution leverages printed barcodes, whereas no new tags or other materials need to be added to our product packaging. It puts authentication capabilities into the hands of our distributors and loyal customers."

Check out this OZNaturals case study to learn more.