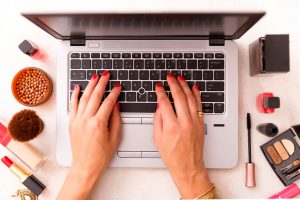 I am the quintessential shopper. I work in digital and love the ability to find deals, coupon codes and buy my products online. Before I started working at Systech, I never considered that what I could be buying—that amazing deal on my $160 cream for $40 could be dangerous. I really don't think a lot of consumers do. Unfortunately, there isn't a way to check the product to ensure it is real. Until now.
Let's look at the figures. In America alone, 96% of people have shopped online. It's estimated that by 2021 that 2.4 billion people globally will be shopping online. While this is great for retailers and the convenience of the consumer. It is also an area that needs to be addressed for safety.
Now, let's go back to my amazing deal. I made this purchase via a vendor that is known for their deals across everything from travel to household goods. I was so happy about my purchase until I got it. I had just finished listening to a colleague tell me how counterfeiters use the same packaging, label and color of product. So, I was going to put this knowledge to use and see if I had the great deal or a potentially dangerous product.
I purchase this product regularly so I know what it is supposed to look like. The jar was the same. The color of the product was similar, not exact. However, the label didn't look as clear as the one that I had sitting on my counter. Was this a counterfeit? Other than my examination of the product I had no way of verifying the authenticity of it. After reading the dangers of counterfeit products, especially in cosmetics, I opted to not use it. I contacted the vendor I got my amazing deal from and they gave me a credit toward another purchase and said they would "look into it."
Not every consumer has the knowledge that I have, which I have from working here. Those that don't work in the industry probably haven't seen the numerous articles either. Why? You are buying your brand!
While I wished that there was a way to verify the product. There wasn't one and I wasn't going to take a chance. However, there is an option for brands to change that. One of our products, UniSecure™ allows someone like me to scan a product label and know it is authentic. This gives the consumer the ability to use their mobile phone to scan their favorite products and know they are real. I hope that more brands recognize the need for this. Consumers are loyal to a brand until they have a problem. Companies spend millions on brand loyalty promotions and activations to engage their consumers. Now, these same companies have the opportunity to engage with their consumer and protect them at the same time.