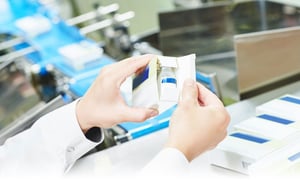 Drug manufacturers who market drugs in Europe will need to begin applying unique identifiers and an anti-tampering device to their packaging by February 9, 2019. Most companies are already aware of these well-publicized requirements of the Falsified Medicines Directive (FMD) and the E.U. Delegated Regulation (EUDR). Systech offers packaging line management and serialization solutions that will allow you to easily meet these requirements. But you might not be aware of the other big requirement for manufacturers in the FMD/EUDR. That is, they will need to communicate with the European Hub data repository and data router by that same date.
The European Hub is a special repository setup by the non-profit European Medicines Verification Organization (EMVO) to fulfill specific data sharing requirements in the EUDR. Drug companies will need to send information about the products released for sale or distribution to the European Hub—including all of their unique identifiers and the regions within the E.U. where those drugs may be marketed. The EMVO will then route your data to the national repositories that service those regions. Pharmacies will use those national repositories to verify each drug before they are dispensed to a patient. Wholesale distributors will use those repositories to verify certain drugs that are at high risk of being counterfeited.
Systech's solutions include the necessary communications software that will enable companies to send the required serialization data and routing information to the European Hub at the appropriate time, thus taking one big headache off your list. The EMVO grants one data connection per drug manufacturer. Systech can assist customers with setting up and testing their connection. Contract manufacturers and solution providers are not allowed to connect directly to the European Hub as delegates, although third-parties who meet the requirements may be certified as "gateway providers".
Contact Systech today to determine your best option for connecting your data to the European Hub.