We recently conducted a webinar entitled "Coming Down the DSCSA Stretch – Authorized Trading Partners, and What You Need to Know". I was joined by Georg Jürgens, Manager of Industry Solutions at Spherity and Octavio Rodriguez Perez, Group Product Manager at Systech, for this discussion.
With so many touchpoints across the pharmaceutical supply chain, it is essential to confirm that only trusted entities are involved in the exchange of prescription drugs. "Bad actors" can infiltrate the supply chain with counterfeit and/or diverted products, so it is essential that electronic systems are in place to verify the identity of each entity.
To confirm that only trusted entities are involved in the exchange of prescription drugs, one of the lesser thought-about elements mandates that the required data exchange through the supply chain is only done with registered and authorized trading partners (ATPs). To comply with the DSCSA, pharmaceutical companies must only conduct business with ATPs that have been authorized by the FDA.
The DSCSA 2023 regulation states that ATPs may only transact with other ATPs. ATPs are responsible for maintaining accurate records of all transactions involving prescription drugs and for verifying the authenticity of the products they handle. This affects manufacturers, distributors, dispensers, repackagers, 3PLs and their trading partners. Implementation of credentialing through authorized trading partners will also be key to product tracing under the DSCSA for 2023.
I'd like to distill down some highlights from the webinar and consolidate key discussion points in this blog.
Octavio: "The challenge with the US drug supply chain is that it's truly a distributed system. It's a system of systems. Some other regulations are a government system where you just report and that's it. But in this case, it is slightly different, where you need to really collaborate and work with other trading partners, competitors and service providers to deliver solutions that are required for the benefit of the patients."
This collaboration is essential, as DSCSA requires EVERYONE in the pharmaceutical supply chain to participate and possibly connect—and validate that the connection is with legitimate entities. One of the ways to validate digitally is through credentialing for trading partners.
Georg: "Don't get confused by the technical term credentialing. We are talking about a system of systems that multiple providers offer, for example, product verification and these systems need to be interoperable. Since they reflect a decentralized state of the supply chain, everyone wants to have control over their data.
So, to validate, we use credentials. Credential use increases the level of trust that they are communicating with authorized trading partners. And we use technology to verify the credentials. As an authorized trading partner, I need to be able to verify the credentials for each request, using the digital representation of the trading partner's license status ensuring valid registration. And we use this technology to ensure that such information can travel along with product verification messages that are exchanged between trading partners."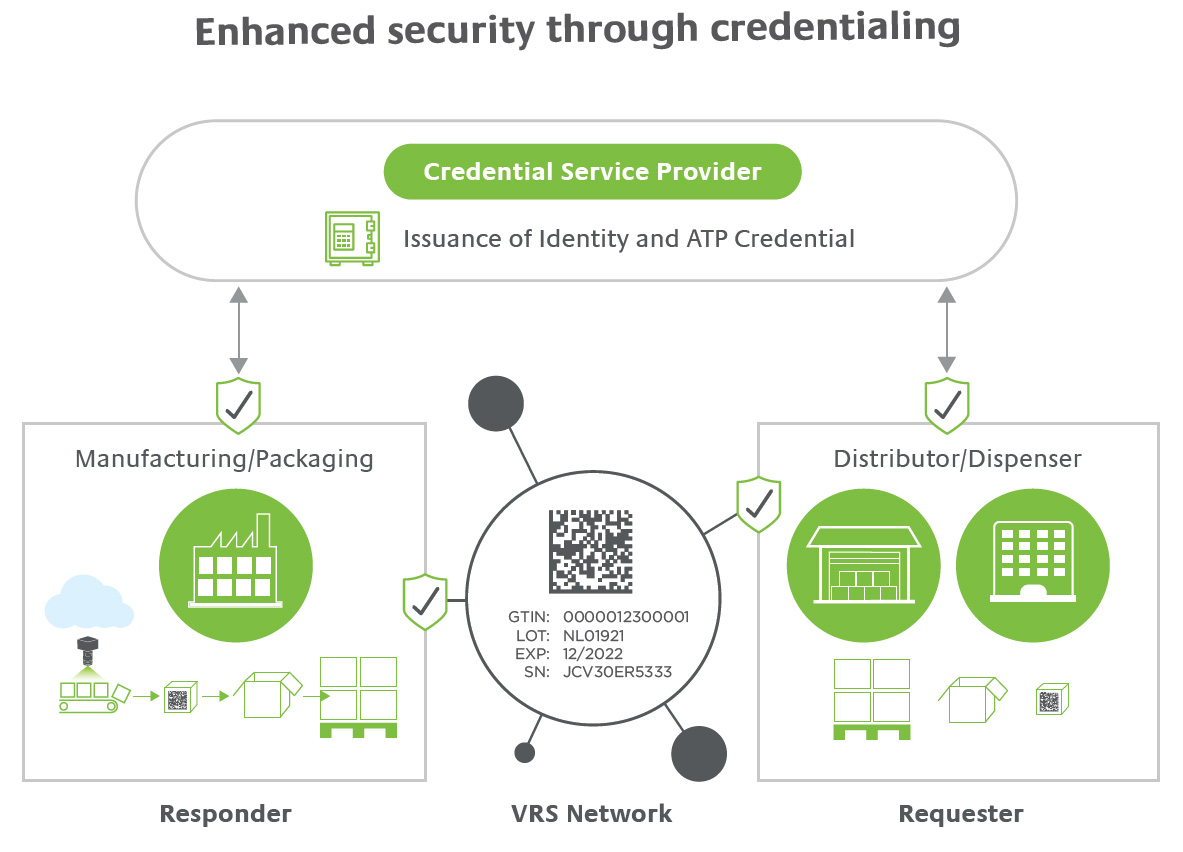 To facilitate credentialing and ATPs, Systech and Spherity participate in a consortium called the Open Credentialing Initiative. The OCI seeks to streamline this process by creating a standardized system for credentialing ATPs that can be shared across multiple organizations.
By using a decentralized platform, the OCI allows each ATP to maintain control over its own credentials, while still ensuring that they are securely and transparently verified by all parties in the supply chain. The OCI is also designed to promote interoperability between different credentialing systems, allowing ATPs to easily exchange information with one another and with their partners in the supply chain.
Georg: "The OCI standard allows us to integrate the systems very easily because it addresses the technical challenges within the messages going in and out. We leverage the message header to transmit this credential, which you can think of as a driver's license or some sort of government ID that you attach to the messages. The messages then travel through the channel to the other endpoint, which the other endpoint can just verify with their own system."
During the webinar, we discussed the possibility of manually verifying credentials but raised numerous issues with the lack of formal system to system communication. Manufacturers and wholesalers are largely on board with addressing the data integrations necessary for DSCSA compliance come November—including ATP verification. But the third main pillar of the drug supply chain, pharmacies and dispensers, are decidedly behind in getting systems in place for compliance.
Octavio: "Considering how many different distributors are selling to pharmacies, it gets very complicated—with data going into multiple systems and portals. We ensure from a credentialing perspective that we can connect one system for and on behalf of a single dispenser or multiple pharmacies. And whatever system they use, they can use the credential and send it along with the request to get a response immediately."
It was a pleasure to facilitate the conversation with Georg and Octavio. I encourage you to watch the full webinar for their comprehensive insights on DSCSA, credentialing and ATPs.
Watch the webinar on demand here: Coming Down the DSCSA Stretch – Authorized Trading Partners, and What You Need to Know