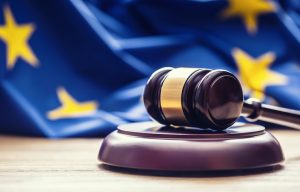 Now let's look at some of the complications for drug manufactures when meeting the Europe's Falsified Medicines Directive (FMD), and particularly the Delegated Regulation.
Randomisation
First, the randomisation of the serial number is a significant difference from most regulations prior to the FMD. Fortunately, Systech's products have EU serial number randomisation built right in so this isn't a problem for our customers. If you don't have a Systech solution, make sure your system can meet the 1 in 10,000 guessing requirements.
The "Big Bang"
The next complication is the "Big Bang" startup of the regulation. Overnight, on February 9, 2019, everyone in the EU pharma supply chain must start fulfilling the requirements spelled out for them in the Delegated Regulation. The manufacturers must begin applying unique identifiers to their product packaging and upload the data to the EU Hub. And downstream trading partners must begin verifying and, in some cases, decommissioning products that have a FMD Unique Identifier on them.
Fortunately, Systech solutions include the capability necessary to communicate with the EU Hub, built-in. If you have someone else's solution, make sure they have that feature.
But whatever you do, don't start shipping serialized drugs in the EU very much earlier than the date of the "Big Bang", because most wholesale distributors and dispensers are not going to start verifying and decommissioning before that date. Any serialized drug that makes it past these entities without being decommissioned will become a target ripe for exploitation by criminals, because those unique identifiers will remain listed in the repositories as valid and active, even though the actual product is no longer in the supply chain.
Verification / Decommissioning
Verification is another complication. In some cases, it must be done without decommissioning, and in other cases, it must be done along with decommissioning. Here are the primary situations where each is necessary.
Verification

On dispense

Risk-based in supply chain

Decommissioning

On dispense

On export

At wholesaler when selling to small entity

When stolen, or destroyed
And by the way, if a downstream trading partner mistakenly decommissions a set of unique identifiers, they can do what is called "re-commission" them. There are restrictions, but this could get complicated for some. Decommissioning and re-commissioning will mostly be done by downstream trading partners. If they fail to do it properly, the manufacturer may end up having to deal with collections of good product that cannot be dispensed because it is mistakenly indicated as decommissioned in the system of repositories.
Whenever decommissioning is necessary on a full case, full pallet, or full shipment, as it would during an export, or when a full trailer is hijacked or destroyed, companies are going to want aggregation data. That way they wouldn't have to open every case and scan each unit, which is something you cannot do anyway, if the drugs are stolen. Unfortunately, the FMD and Delegated Regulation do not anticipate this need, so aggregation data is not required. Not only that, but the EU Hub and the system of repositories will not even recognize aggregation data, so if it were created voluntarily, companies would have to share it on their own.
The FMD and its point-of-dispense authentication model was originally touted as being much easier than full track and trace through the supply chain because it did not need aggregation data, among other things. But this could become a problem after companies start running into these problems.
Free Samples
Another complication is the handling of free samples. In the EU, free samples must be serialized right along with every other product. And when the product is later "converted" to free samples, either by the manufacturer, the wholesale distributor, or the dispenser, the unique identifiers must be decommissioned in the system of repositories. That way, if they end up back in the supply chain they won't verify, so they should not be dispensed or administered. In contrast, most other regulations, including the DSCSA, do not even require free samples to be serialized.
The FMD will profoundly change the pharma industry in Europe. Companies need to align themselves with vendors who have a depth of experience with serialization and meeting pharma traceability regulations all around the world.
Get the full article on our EU FMD Resource Page.