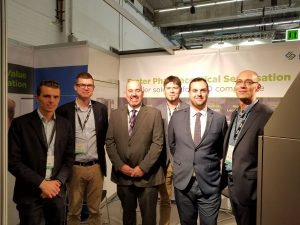 Having just returned from the CPhI Worldwide conference in Frankfurt, Germany; I wanted to share some thoughts I have after spending three days in various serialisation meetings, and talking with attendees at our Systech exhibitor stand. I must say, those conversations were much better than having to wait two hours in the rain for a taxi one day, and the eye-watering hotel prices in the city centre.
One of the interesting elements of the show was the true, global nature of companies that we had serialisation and Track and Trace discussions with. Often, we can become focused on EU-based pharmaceutical companies when we look at the European FMD regulations. However, what we discovered is that companies from countries outside of the European Union are also focused on being prepared for FMD regulations, as well as their own regulations. Unlike their EU counterparts, many of these countries have little knowledge and require a lot of education.
Interestingly, we had a large amount of FMD-related inquiries from Russian companies. Russia is performing its own regulatory pilot currently. The Russia Ministry of Health (MoH) is conducting a serialisation and tracing pilot with several supply chain members between February 1, 2017 and December 31, 2017. The MoH is due to publish an assessment of the pilot by February 2018. It is not certain what elements of the pilot will end up being part of a final regulation—assuming, there will be one someday. Outside of the pilot, serialised Datamatrix barcodes must begin appearing on certain drugs entering the Russia market as early as January 1, 2018. By the end of that year, all prescription drug products must be serialised.
As most of us already understand, the EU directive is more diverse and complex than it appears to be. Implementing solutions to serialise products for each EU Member State, manage master data, and connect to the EU Hub requires more planning upfront than many manufacturers that we spoke with recognize. Preparing early and creating a plan for serialisation across the market is essential in avoiding disruptions in market access for your products. The legal deadline to serialise drugs entering the market and start transmitting data about them to the EU Hub is 9, February 2019. Remember, testing connections several months beforehand is critical to ensure you are compliance-ready.
In any case, ensure your serialisation partner has a wide range of experience, breadth of implementations, global regulatory understanding, and best of breed solutions. The implementation of serialisation brings many different groups together across the supply chain and requires robust project management. Working with a trusted serialisation partner can help alleviate complexity and risk. There's no need for a long custom build if you have a solid, experienced partner with highly configurable options.
So, the Taxis were slow to queue up at the Messe Frankfurt, but the opportunities to help companies with a serialisation solution clearly are not.
Stay up-to-date with the latest on Europe's Falsified Medicines Directive with our comprehensive resource page.